Sat April 18th until May 1st 1998
The train transfer to the airport in Holland (Schiphol) went fine, Some minor problems can be expected on the flight back, but these are worries for later. After some tax-free shopping we were ready to board at GATE 7, At 11.30 AM. There was a small delay, due to a malfunction in the video system but at 12.20 PM, we took off on a 9 hour flight (Amsterdam-Orlando). We arrived in Orlando at 3.57 PM local time (9.37 Belgian time) The 3 rental cars (G.M.C) were picked up and we left for our first stay in the U.S. (Motel 6 in Kissimmee). There we met our host for the trip, JOHN KNOLL, a fire chief with the volunteers in Jacksonville. We were briefed on the program for the next few days and concluded our first day in a local restaurant, although we were not hungry we were eating whole slabs of ribs.
After a good night sleep and a big breakfast at the Ponderosa buffet, we started our first visit at, the Daytona Racetrack. We actually got on the Track and raced around in a guided bus tour. On the way to Jacksonville, we visited a flea market and made our first stop at a Mc Donald's. We drove our cars on the beach and got a feel of the ocean water when we waded in it. Our final stop was in St. Augustine; we had a look at the old fort and took a stroll through downtown St. Augustine. We had a drink at a local bar and then drove to our second hotel (Ramada INN Mandarin) in Jacksonville. The third day we had breakfast in the hotel. John picked us up and guided us through morning-traffic to downtown Jacksonville Fire and Rescue department. The welcome was very friendly. After a visit to the "communication center" we transferred to the Emergency OPS-center and the group was assigned to 7 different stations where we would stay for the next 7 days…
Jacksonville has 52 fire stations, each equipped with 1, 2 or 3 fire trucks and manned by 6 to 12 fire-fighters. We stayed at station 10, myself and 2 other Belgian colleagues. This is one of the busiest stations in town and is staffed by well trained professional fire-fighters who serve the west-side of the city of Jacksonville.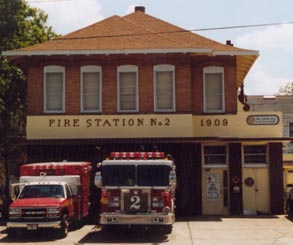 They have an average of 10 calls per 24 hours shift.
Later that night, on the proposal of the chief, we drove around in his car and got a fantastic view of "Jacksonville by night".
On Tuesday at 7 AM., the whole group gathered at station 10. After we had breakfast together, we were ready for a visit to the Naval Air-station.
We looked at the installations of the local fire brigade, and visited a flight simulator that's used in the training of helicopter-pilots. After the tour, we left for the University of North Florida, and had lunch on campus. We watched the students work out in the local fitness-center and got to practice baseball in a training-cage. Everyone was dropped off at the fire-station by 5 PM for another night of ride along. The next morning, we raided a local uniform shop and had lunch at "Captain Video's" Fire House Subs. We met Captain Video (Capt. Sorenson) at his film studio at the training center. He has all the necessary equipment to report on the action that goes on in Jacksonville. He produces first class instruction videos for the department and beyond. While we were at the training center , we saw the local SWAT-team exercise with a helicopter. Quit impressive.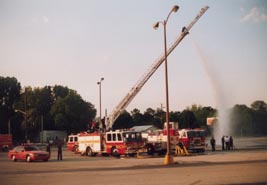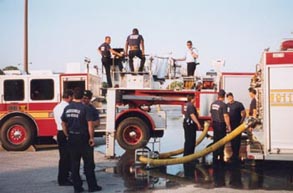 We stayed at the training academy and got to see their $1.000.000 facility, something most fire-departments would envy. That evening, we went to station 20, where we practiced with the volunteers for the firematic games. We had a very pleasant evening, laughed a lot and had a great time.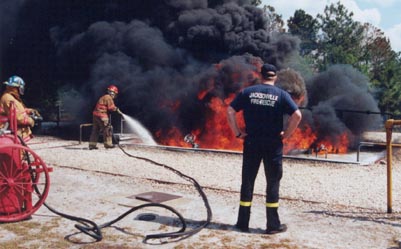 The morning after, we visited Kingsley plantation, made a stop at station 40, and visited the Budweiser brewery. We were back at station 10 by 5 PM and visited the burned-out site of the tire warehouse, which went up in flames the day before.
Friday April 24th was a ride along day. This morning we helped our hosts in their fundraising for the "boot to leukaemia" action. With a sign in our one hand and a fire-fighter boot in the other, we collected money for the good cause. In less than 1 hour, with 10 guys from station 10 (us included) we collected $380. In the afternoon, we had an appointment with Capt. Doug Mc Kelvey, who gave us a special tour of his workplace. He works down-town in the JEA building. He took us to the top floor so we could see and tape Jacksonville from the top of the building. After dinner at station 10, we talked about the different working methods we use in Belgium and were asked if there was anything left on our wishing list. Since we hadn't seen the ladder wagon in action, we asked for a demonstration with that. We sure had a demo; we even got to drive the ladder back cabin on an empty parking lot. After the fire drill we told the crew of a Belgian custom to buy a drink for the rest of the crew after you had an experience like that, but this was out of the question, so we settled for a round of ice cream.
Saturday April 25th . Everybody had to be present today. We visited the Mayport Naval Base, where we went aboard a $ 1.000.000.000 boat. After that we went shopping in University Mall. Back Down-town, were we had to attend a go-away BBQ, we had a get together with our volunteer- friends and competed with them in a firematics competition. It all ended in a " dump in the tub" for John and Paul.
It was an emotional afternoon with words of praise and thanks from our team-chief Paul Vanlook to Fire-chief Ray Alfred, Asst. Chief Ted Holmes and volunteer-Chief John Knoll. Presents were exchanged and the party ended with a giant American – Belgian Cake.
After the meal, we had another engagement in the Wolfson Park Stadium. We watched the Suns play a base-ball game , and our colleague Maurice got to throw the first ball.
The game ended at 10 PM.
Sunday April 26th. It was a beautiful day and the ideal time to enjoy a day at the Jacksonville beach. Today was the official beginning of the beach season and this was celebrated with a 4 mile long beach parade. We had agreed with John to join him and his volunteer Honor Guard to march with them in the parade. Dressed in our blue uniform, a big Belgian flag on the first truck and our funny looking Belgian fire helmets on, we were greeted by the tourists. It was a great experience. The pictures taken of us with our American friends and all the pretty beach girls will be a nice souvenir of our day at the Jacksonville beach.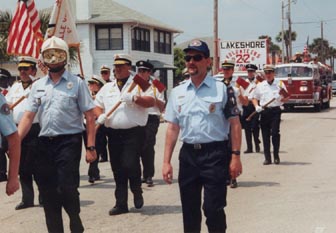 On Monday we went to Ocala, to visit the E-One fire truck factory. On our arrival, we saw the Belgian and the American Flag hanging side by side. This assembly plant, where fire engines are made, and painted with Belgian paint (SIKKENS) was a must for our fire-heart.
We also paid a short visit to the Florida State Fire College in Ocala before we returned to Jacksonville for our last night in town.
Tuesday 28th . Time to say goodbye to our new found friends in Jacksonville. We left at 9 AM for a visit to the Kennedy Space Center at Cape Canaveral, America Space Port. A full day of exploring America's space history. That evening, we arrived late at the Kissimmee Days Inn and had a nice dinner at the Chinese Buffet.
Wednesday. A day at an amusement park. We enjoyed the rides and the film sets at Universal Studios.
Thursday April 30th. Last day and we had time to visit the alligator farm and airboat ride close to the Orlando Airport. At 2PM we returned the rental cars and boarded the flight back to Amsterdam.
We thank the writer of this story, Dreelinck Franklin
(Translation Paul Vanlook – Sharon K. Banwell)