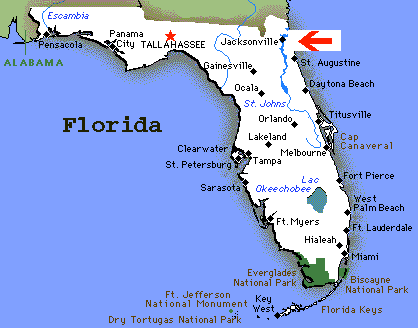 Jacksonville September 28 – October 11, 2001
With falling and get up…
The second trip of Fire Observers in 2001 was originally planned for New Orleans; although there were far-reaching negotiations with New Orleans we had to find another destination. We had to cancel the trip that was planned during that period because of the different reorganisations and recruitments at the New Orleans Fire Department. We had to find an alternative because of this reason. We found this alternative in Jacksonville, Florida. We already had a trip there in 1998. Most of the arrangements were made on a short-term basis and finally the second trip in 2001 could take place.
A tragic event took place on September 11, 2001. Four airplanes were hijacked and used as weapons to attack the World Trade Centre in New York and the Pentagon in Washington DC. On Friday September 14th we had planned the final meeting about the trip to Jacksonville. Naturally, there were a lot of doubts raised about the trip. We received the positive news from Jacksonville that, not withstanding the events, we were still welcome. The question "how to get there" still remained; all flights from and to the US were cancelled. But after a couple of days the air traffic resumed and so that problem no longer existed.
The day was there on Friday September 28th: appointment on the airfield at 10.00 A.M. This was a little bit earlier than the other trips because the time to check in was longer. Contrary to our expectation we departed on time with United Airlines, flight UA.951 and we arrived about 45 minutes earlier than expected in Washington DC. The change to another flight didn't go that smoothly; thanks to some "paid volunteers", who would take a flight later, everybody got on the plane. We found John and Sweetie very quickly in the crowd once we arrived in Jacksonville. They were waiting for us with a Belgian flag in their hands. After we got our baggage and picked up the rental vehicles, we all went to an "all you can eat" place next to our motel for a meal.
Saturday morning, after breakfast, we went to John's house, a little fire museum, with cupboards, shelves and walls full of fire department stuff and gadgets. From there we went to the headquarters of the fire department. There was Glenda Hopkins, PR of the fire department, waiting for us. Here everybody got assigned to a station. We also took the opportunity to take a quick look in the 911-central. After that, everybody was taken to his post to start the ride-a-long program. The press was also at station 10 and in the evening everybody in Jax. could see on the news we were back in town.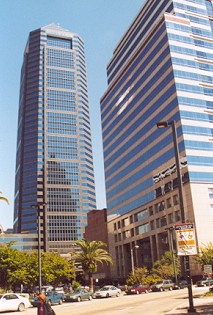 Everybody was riding with JFRD from Saturday afternoon until Tuesday morning. Kathy and Bart were riding at station 4, Kris and Philippe at station 10, Andre and Karel at station 5, Tom at station 52, Johan and Lieven at station 14, Kevin at station 7 and Jerome and Kurt at station 9.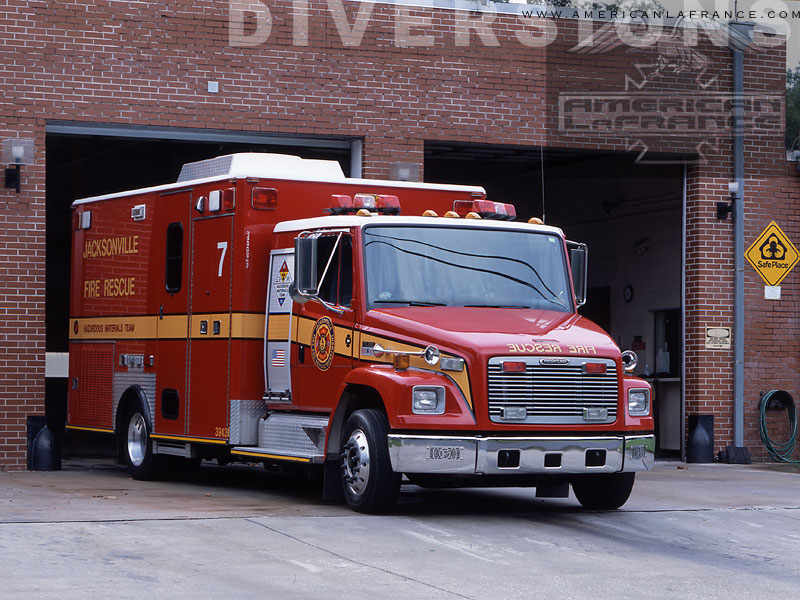 Most of the stations were busy, sometimes slow during the day, but as soon you got to the table for the evening meal, the meal got interrupted because a real heavy person had fallen out of his bed, for example. Before putting him back in bed, his sugar content and blood pressure were taken. Two engines and one rescue were sent to the scene; this is eight JFRD personnel plus four Observers…
At station 10 and station 7, they had a call for a fire at a chemical factory, the rest of the calls were specifically medical calls and fire alarms. These calls very often got cancelled before you arrived at the scene. A lot of miles got driven…. On Sunday evening there was a call at station 9 for a presumable drowning. When we arrived at the marina, it appeared that someone had fallen into the water and he didn't come back to the surface. After a period of four hours searching and dragging, the search action got stopped. During the next night, there was a garden house fire. Among the firefighters from JFRD, they could also see four Observers.
Tuesday we all got to gather at station 4. From here we went to the head quarters of the fire department. Here, we were welcomed by the whole staff. We were shown around the whole building. This building used to be a bank, with strong walls and doors. Now it is rebuilt as a command centre. In case of a disaster all disciplines of the emergency services can be brought together in this building. They all have their own spot with computers, TV's, telephones and fax. The 911-central is also accommodated in this building, to which we paid a visit; this time the visit was a little bit longer than the other day. We also went to the roof of the building where we had a nice view over the city. After that, we went to City Hall. There was a guide waiting for us to show us around. We also had the chance to see the mayor's office and a meeting of the city commission, which was interrupted to introduce us. After our meal at Hooters, we went to the fire museum. Here we saw a beautiful collection of fire department stuff. From here we went to a fire station with a fireboat, station 38 with Marine 1. We just stopped by to see the fireboat, but when we got the chance to make a trip with the boat on the St. John's River, we couldn't resist the temptation and so our visit took a little bit more time than was planned. It was really nice; it was impressive passing the loading-platforms of the sea ships. Also the water canons were put into action. After this trip everybody was taken back to his station. The night's rest got interrupted many times for different calls; sometimes for a fire alarm, but most of the time medical calls.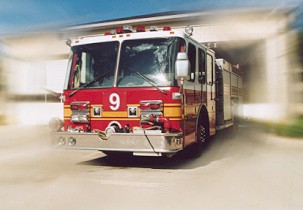 Wednesday, it was training day. During the greeting at the training centre, they had a nice surprise for us: we all got bunker gear and after the training we all could keep the fire coat and take it with us to Belgium. Everybody got the chance to get in the "hothouse" and after that they lit the oil well to do a drill. It can get hot on these drills and Karel will know this best of all of us… through his boots, his feet got burned. After taking care of that, he was back in action. This hot day got cooled down with a visit at the Budweiser brewery. We had a guided visit through the factory and a visit at the bar for a taste of the real American beer.
Thursday morning we went to Ocala, the first place we stopped was the Florida State Fire College. A guided tour through the classes and the practice field were on the program. On this big practice field, we saw railroads with tankers to simulate train accidents, buildings, and oil wells; even a helicopter was there to simulate all kind of emergencies. We ate our meal at the restaurant of the college. After that, we took off to visit E-one. This is one of the largest fire engine builders of the US. Here we could see how they make fire engines from pieces of aluminium. Most of the engines are totally built here: the chassis, the cabin, pumps, equipment lockers, etc. Almost every part is "handmade". An impressive number of, sometimes really big, fire engines were standing there, waiting to be picked up by their owners. During this tour, we saw Ladder 9 of JFRD at the recovery place. During our stay, there was an old Mack tower ladder at station 9.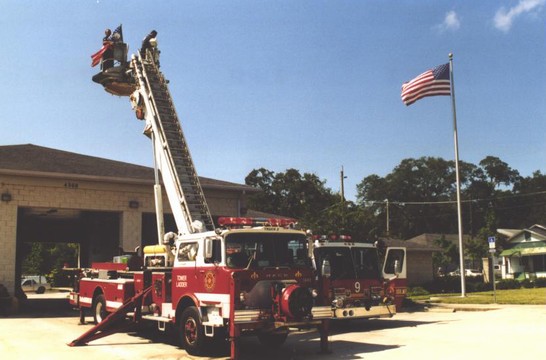 Friday was a ride-a-long day again, but dinner for the whole group was at station 9. During dinner we all got a certificate and mementos like a T-shirt, pins, etc. When the fire alarm went off, a couple of Fire Observers couldn't resist answering the call. On a highway, there was a little piece of grass burning. The firefighters of Jacksonville didn't have to do anything this time; the observers put out the fire this time. The rest of the day we rode-a-long and made our baggage ready to leave, because next day was the end of the ride-a-long program….
Saturday everybody got picked up for the last time at the stations. When we started to put the baggage in to the vehicles, we saw that everybody had a little bit more in his suitcases than when we arrived…it seems that such a big fire coat didn't fit in everyone's (small) suitcase. The last time we put on our uniform, was very special. We could do a parade where paid firefighters were present as well as volunteer firefighters. Between a lot of brass bands and floats, there was a group of Belgian Fire Observers present.
Afterwards we went to a motel to empty our vehicles, put on some other clothes and than we drove to the beach. On the beach, the group split up in to smaller groups. One group preferred to go swimming, the other group preferred to get some fluid, but this fluid was in a glass and in a bar…
On Sunday we went to Daytona. First we stopped at the flea market, because some of us needed an extra or a bigger suitcase. But here we also found extra souvenirs, so that the baggage problem still remained. After that we drove to the Daytona Race track. With a small low-speed tram we were shown around. A photo session on the winners' platform was nice too. After this we went to Daytona Beach, where everybody got the chance to walk through this lovely little town. It was a little bit too early for the motorcycle fans, because the motorcycle happening took place one week later. But there were already a lot of motorcycles and there were also a lot of shops with gadgets.
On Monday we went to see Kennedy Space Centre. After a very rigid check in at the entrance, we enjoined a shortened program. At that moment they where bombing Afghanistan and that had some influence on the safety in and around the Kennedy Space Centre. But what we got to see was really nice: from all kinds of little models up to a Apollo V rocket on real scale and also the space shuttle and the inside of it.

Before we went to our motel, we first let the shopping microbe loose in ourselves. We stopped at a mall and we bought some souvenirs and T-shirts, to make sure our suitcases were extra full. At the evening we had our "final meal" with John and Sweetie. We made the choice to go to a prime rib restaurant and again it was an all you can eat restaurant. Some members of the group were always hungry. John got some mementos from our group and we got also a gift from John, namely a T-shirt and a little fire engine and also a patch and an emblem of the Lake Shore Volunteers.
On Tuesday, the final day, we went to Universal Studios. There we enjoyed a lot of attractions and lovely scenery from well-known and less known movies, such as Back to the Future, Terminator, Twister, ET and so on.
On Wednesday we had our last activity: an airboat ride on Boggy Creek to see some alligators. Even though we didn't see any alligators, it was a nice experience. After that we delivered our rental vehicles back. On the airfield of Orlando we noticed a lot of soldiers, because of the events in Afghanistan and for the safety of the US. We also departed here on time, this time in the direction of Washington DC. To make this flight more excited, the pilot told us that we couldn't fly to Washington DC, because of some problems at the airfield. After flying a couple of rounds, we flew to Richmond, VA. to get some fuel. On that moment we got permission to fly to Washington DC. In the airfield of DC, there was a runway closed because a plane was on it with a flat tire. The flight to Brussels went really smooth and our feet were on our national ground at the time that was expected.
I can say that this was a successful trip; however the atmosphere got overshadowed because of the events in New York and Washington. Jacksonville showed its hospitality once again and we all enjoyed it.
Story: Kurt Van Thuyne
Translation: Tom Van Landeghem – Sharon K. Banwell