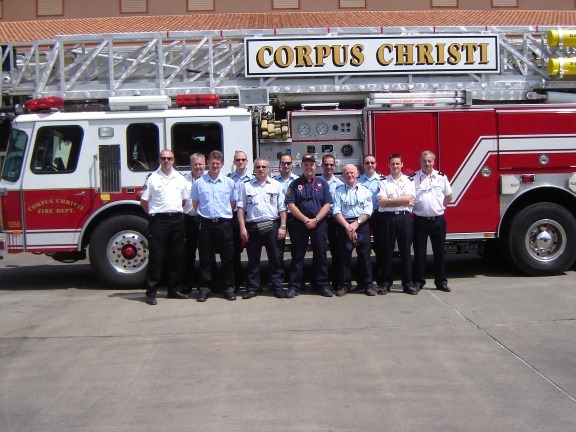 Travel story Corpus Christi, Texas from April 12, 2006 till April 25, 2006
Day 1: Wednesday, April 12, 2006
1930 local Texan time the 10 Fireobservers who left Belgium this morning arrived at San Antonio Airport. Peter and Filip departed a day earlier and waited at the airport. They have been in Corpus Christi today to make the last preparations and where full of praise for the reception by Ass.Firechief Rick Trevino. Together they prepared a promising program for the next few days. The local media also found out that the Fireobservers where on American soil and arranged a press-conference for the next day. It all looks very promising but the 22 hour trip got the best of everyone and it was time to get some sleep.
Day 2: Thursday, April 13, 2006
This morning at 06.00 hours, the reveille, most were already awake and had the feeling if they had slept a whole day. After a nutritious American breakfast we left the Three Rivers at 0830am direction Corpus Christi.
Around 09.30 am we arrived at Headquarters where we waited an overwhelming reception by Acting Chief R. Hooks, Asst.Chief R. Trevino, Asst.Chief A. Cardiel Union representative C. Torres and the local press. After the presentations and some explanation about the CCFD we visited the gear-shop for our "Bunker gear" (fire fighter vest, helmet and fluorescent vest) followed by lunch. After lunch we went to the Refinery Terminal Fire Company. This is a joint fire fighting service for the refinery company's with a commercial training facility. Again the local press made a story out of it. The reception was warm ant the people very open. It was a very interesting tour ended with exchange of gifts.
At the 6 'o clock news we saw a brief report of our reception at HQ.
Message of the local press:
The Belgian and Dutch Fire Observers group arrived this morning (April 13th) in Corpus Christi, Texas at 10:00 a.m. They are a group of twelve career and volunteer fire fighters who are visiting Corpus Christi fire department facilities as well as NAS Fire Department and the RTFC Drill Field. Today they visited Fire Headquarters, the EOC, and CCFD EMS/Fire Central Training Facilities, ate lunch at Fire Headquarters, and visited the RTFC Training Field. They will close off today by reporting to their assigned stations of #1, #3, #7, #8, #10 and #14 for the rest of "C" Shift. I had the pleasure of meeting with two of the fire fighters (recon team) yesterday and met the rest of them this morning and have to tell you all, they are really a nice group of guys (fire fighters) eager to learn and see the way we do things in this fire department (Corpus Christi style). Tomorrow morning they will visit our 911 Dispatch Centre and then the union hall between 9:00 a.m. and 10:00 a.m. if anyone would like to meet them and visit with them. Let's show them some good "ole South Texas Hospitality"!
Day 3: Friday, April 14, 2006
Easter weekend is very popular especially for the Mexican part of the population. They also search for Easter eggs; these aren't filled with chocolate but with confetti. They expect a busy weekend, the stations will be sure to notice. Tonight we only had three 3 calls for Medic-8 and had just as many for the Engine, wondering what the night will bring…..
In general, everyone experienced a quiet night, this morning at 0830 hours we met at Headquarters for another well filled day. After a cigarette and a cup of coffee we visited the 911 centre which is located at the local Police Station. There was an explanation of the various systems which they work with and the types of calls they process.
Later we went to the Union headquarter where they made us a Mexican-American breakfast. During breakfast Union President, Carlos Torres, explained what the Union does. The local Spanish speaking press made a report and we made it again on the 6 o' clock news. We are turning famous. The group is recognized everywhere (the post-office, the gas station, the beach, the navy base,…). After the Union we drove to Padre Island. A stretch of beach where people enjoy the sun on the roof of there car. Something we aren't used to. Later we went to the Naval Airstation Corpus Christi this is a big naval pilot training facility. NASCC occupies a state of the art building and has a so called crash centre. No effort was spared to demonstrate everything.
The also demonstrated the Airplane trailer. This trailer is designed to simulate all airplane fires (engine, cargo, cabine, armoury,…). Back at station 1 after an intensive day we received a fire-call but got called off early. No flames tonight… Back at the station we had dinner (roasted chicken, mashed potatoes and beans). After dinner some guys tried to play bagpipes, some more successful they others. Around 9.00pm Engine 101 was called to go stand by at a fire works show after a baseball match. We were stationed at a military base where a big cargo ship was unloaded with tanks and other equipment that served in Iraq.
Around 1100pm we were back at station 1 and hit the sack after a can of Dr Pepper. Its Friday night so hopefully a busy one for engine 101…. To be continued.
Message of the local press:
The FIRE OBSERVER group of fire fighters visited the Corpus Christi Fire Fighters Association Union Hall on Friday, April 14, 2006. They were treated to breakfast and given union tokens of appreciation for their time, efforts and obviously financial sacrifices in visiting the United States and especially picking South Texas and Corpus Christi to visit this year. None of the fire fighters have visited Texas before. They met with City Council member and Local 936 friend Jerry Garcia at our Union Hall. From there the group returned to CCFD Fire Headquarters for a brief rest and it was on to the CC Naval Air Station to visit their fire department and the base. After that they returned to their assigned fire stations (#1, 3, 7,8,10 and 14) for the rest of the shift. I would like to thank all Corpus Christi fire fighters for making them feel very welcome and being very hospitable as I am sure they will return to South Texas again some day soon!
Day 4: Saturday, April 15, 2006
First a story of our night shift at Station 1.At 1700 a BBQ was lit for typical Texan Ribeye steak to dish and I can assure you it wasn't small patches. After dinner the captain had found it necessary that some sports should be done. Instead to do sports, we were offered a visit to the baseball stadium where this evening a big game was scheduled. At 1900 the full crew of Engine 101 and Engine 1 left towards the stadium where we were introduced to the entire public, and I assure you it gives goose pumps! Filip and Yoeri were filmed and projected on the big scoreboard with naming and shaming.We are becoming famous Corpus Christi firefighters, because apparently everyone knows us from the impressive media attention the last days. Hilarity when their faces appeared on the big screen because Mario and Joachim where also the present at the stadium. The Friday crew of station 3 also invited them tonight for the baseballgame. It gives an impression how the presence of the Fire Observers at stations is appreciated. Today was a day ride along, a whole day could be go forth with the crews on the stations. Heard various reactions, it is a good day to all of the stations, collisions, fire, CPR the whole range passed the review . Tonight most stations held a BBQ so most of us now know how a Texan steak looks and tastes.
Day 5: Sunday, April 16, 2006
Tonight it was, contrary to expectations, fairly quiet at the stations. Most have slept well and were well recovered at 1230am when they were obtained for the visit to the aircraft carrier, the USS Lexington. Since many CC fire fighters have a second job here, we were nicely received and we passed the register along the good side ….. The aircraft carrier is one of the main attractions in Corpus Christi, which is very impressive and for most a completely new experience. After the visit to the USS Lexington, for the first time this trip we tasted a BUD in a bar on the beach. Because its our last evening at the stations in Corpus Christi its virtually everywhere BBQ. Tomorrow awaits us the official farewell at Headquarters and a ride to our destination, Lake Jackson.
Day 6: Monday, April 17, 2006
Tonight, in general, has been quiet at the station, except for medical calls and smoke in an apartment building. This morning it was time to say goodbye to the station after the exchange of T-shirts, patches, stickers and addresses some group photos were quickly made. We were expected at Headquarters for the official end of our Corpus Christi visit .In their farewell words Acting Chief Richard Hooks, Ass.Chief Union President Rick Trevino and Carlos Torres were very flattering about our services at the stations and provided assistance during the calls. It was the first time that Europeans had visited and it exceeded their expectations. The Fire Observers are welcome to return again in the future; a better advertising we do not want. As thank you we all got to keep our helmet, stickers and T-shirts. After the official farewell at Headquarters we went to station 1 and took a last group picture.
After a solid drive we arrived around 18.00 pm at Lake Jackson, Fire Chief Mike Harper and Ass.Chief Billy Yates came to pick us up at the meeting point. The welcome said it all; it is extremely nice to have the Fireobservers. After a short ride we arrived at the Fire Station, what we saw exceeded all our expectations, a brand new 2-storey station with all the trimmings. Despite being a Volunteer Department the building has all the facilities of a full station Luxury bedrooms, showers, meeting rooms, kitchen etc. Later we went out to dinner with the Fire Chief and Ass.Chief. , Tomorrow a visit to the Dow plant in Freeport is scheduled.
Day 7: Tuesday, April 18, 2006
Today the visit to the Dow Freeport location was scheduled, these are three separate sites: plant A, plant B and Oyster Creek. At 0500ameveryone was woken it promised to be a warm day and we wanted to be back in Lake Jackson on time. Our host Billy Yates took us, after a hearty breakfast at IHOP (International House Of Pancakes) in tow to Dow. It is incredible how much industry is located here, as far as the eye can reach we saw installations. After a check-in procedure we all got a visitor badge and our access to the Dow site granted. Once we arrived at the Dow plant-A Fire Station the local press appeared, a journalist and photographer from the local newspaper heard about our presence and would like to do a story. Seen our past experience this also wasn't a problem. At the station there was time to take a look at all the equipment, take some pictures, test the truck and exchange information with the fire fighters. As told before we couldn't be luckier and use a wonderful accommodation. Lake Jackson Fire Department has, apart from the station we stay in, 2 more stations each stationed with 1 engine. They also have an old-timer Chevrolet that is used on special occasions.
Day 8: Wednesday, April 19, 2006
For many of us fatigue begins to strike; yesterday evening the most were around 21.30 in bed. This morning it was up at 06.30 so that we first had a good night's sleep. Scheduled: Hazmat Station 22 at Houston and the Houston Fire Museum.
Tonight, the Lake Jackson Volunteer Fire Department invited us to a BBQ, an offer we can't refuse. To give it all an official character, all volunteers are invited, including wives and children.
This morning breakfast again at IHOP, Fire Marshal Randy Crim accompanied us and arranged some things for our visit to Houston. This morning was the visit to Station 22 Houston Hazmat were we met District Chief Blake White. After a brief welcome, we had the opportunity to view the station and one of the vehicles. The rest of the vehicles had virtual training on the Houston Fire Training Academy, since we also were interested in this spot that also got arranged. For the visit to the Houston Fire Training Academy, a Hazmat vehicle of station 22 was our escort.
At the Fire Training Academy, new fire fighters are trained for their job at the fire department of Houston. The Academy includes a drill tower, a burn building, a virtual training simulator and numerous other training items.
Our next stop was the Houston Fire Museum. The Fire Museum in Houston is located in a former station, the building is renovated in the beginning of the 90's, the interior is left unchanged. It breathes the atmosphere of the past and shows how the department was housed that time. At The Fire Museum we walked straight into the arms of the Houston Fire Department PIO (Public Information Officer), who was very enthusiastic about the aims of Fire Observers and the non-profit nature, he invited us to do a ride-along program the following year. Perhaps this offers perspectives for the future …… Today we celebrate the happy fact that our veteran "Pepe Lucien" has become 6o years of age. Wednesday was the time for the official farewell part. As earlier mentioned we were offered a BBQ and presents were exchanged. Fire Chief Mike Harper, 1st Asst.Chief Billy Yates and Randy Crim have spared no effort to make us feel at home at Lake Jackson, we thanked them extensive. Small statues, Belgian chocolates, a Belgian officers hat, a Gallet helmet a shield of Bree FD where their share. We were thanked with a ship load of T-shirts, stickers, coffee cups, pins, patches, calendars and many other things. The farewell was one with a very personal nature, there are friendships forged and they invited us also to work in the future to come back. We knew that Pepe Lucien had his birthday on April 20 and we would not let get past, he was finally 60! Thursday evening at the farewell BBQ with the Lake Jackson Volunteer Fire Department, we have the opportunity to set Lucien in the sun. Fire Marshal Randy Crim was involved in the conspiracy and had a beautiful birthday cake provided with Pepe's photograph, a fire engine and our congratulations on his 60th birthday. Except for the cake we had a beautiful model from fire wood provided. Under false pretences was Lucien lures away from the BBQ, meanwhile the present fire fighters and their families informed about the going to come. When Lucien returned in the main hall everybody sang "Happy Birthday to you", I know Lucien not very long but saw that it something to him. Mission accomplished!
Day 9: Thursday, April 20, 2006
Thursday morning we left Lake Jackson. Billy Yates and Mike Harper were present say goodbye. It would be a 2.5 hour drive to College Station eventually it was 1100am, before we were on the spot. Jeff Saunders, district chief USAR, was our host and welcomed us at gate-B. TEEX has two parts: the Fireschool and Disaster City. Almost all conceivable scenarios can be practiced under real conditions. Today the fire part of this trip is completed. But with a visit where many fire heart will pound a little harder. TEEX is Texas Engineering Extension Service, The establishment that we visit today is:
Brayton Fire Training Field:
The location where training in a realistic and large-scale, not to mention real life, is provided. This requires you to come to Texas Engineering Extension Service's Brayton Fire Training Field in College Station, Texas.
Located just next to the campus of the university, very large and the place where each year more than 45,000 student rescuers of all 50 states and more than 45 countries come. Specific training on 132 different models for all possible forms of aid courses.
For the fire department there are several lay-outs with real fire training.
Day 10: Friday, April 21, 2006
After our night in Waco, we went off, with a stop in the outlet centre Hillsboro, to Fort Worth / Dallas. Friday, the fire section concludes with a visit to the Stockyards. It is an authentic piece of Texas were over the past years the livestock was collected and was introduced to several destinations. Present cattle are driven through the streets twice a day for tourists. The Stockyards became a renowned nightlife Dallas and surrounding areas.
There are always occasions to remember to drink to, we had a few…… Pepe's birthday (Lake Jackson, where we had Pepe's birthday celebration was a "dry county, alcohol was taboo), Philip pass for Petrochemical and Company Protector. Sometimes there are items that you can't know in advance. We didn't know that in the person of Guido we had a gifted guitarist among us. What we didn't knew in advance that he would perform live at the "White Elephant Saloon" at the Stockyards with the famous Country Singer Brad Hines. CCR, Steve Miller and many other acquaintances passed the review. It was a performance to remember Except Guido other European musicians were present. It was a German company from Bavaria. Brad, Guido and the Germans just jammed………… As a farewell to our cozy evening at the White Elephant saloon, we were all called on the stage for a group photo with Brad.
Day 11: Saturday, April 22, 2006
Today Dallas was scheduled. We started at 10.00am from Fort Worth. After a 40 minute drive Dallas came in sight.
The Six Floor Museum is an exhibition arranged on the assassination of late President JF.Kennedy. From a window on the sixth floor of this building Kennedy was deadly wounded with three shots by Lee Harvey Oswald on Elm. Kennedy died to his injuries in a Dallas hospital at 1pm.
The Reunion Tower is a striking point in the skyline of Dallas, the tower can be visited and offers a beautiful view of downtown Dallas. Since we stayed two days at Fort Worth and returned from Dallas in time, there was still time to see the Stockyards in daylight. The Stockyards area is also known for its rodeo hall, almost every night there are a lot of rodeos. Where else than Texas, you can eat beef ribs ……… the whole group tried, and liked it very much! Billy Bob's is the place to be at the Stockyards, however, since the following day a long drive was scheduled and Mr.Bob $ 15 entry per person, we decided to skip him this year. Two days Fort Worth / Dallas filled with beautiful moments, but today it was time to go.
Day 12: Sunday, April 23, 2006
Fredericksburg in fact is an old German enclave which currently can be found in the streets.
Since we are in a German enclave it seemed us great to try a German restaurant. Once inside, we were surprised with the music of Frans Bauer, the name sounds German but we feel this is really a Dutchman! This didn't spoil all the fun, hostess Gertrude had found her partner in Steven and schnitzels were excellent quality.
General Nimitz, at the time of the battle of the pacific admiral, was originally born in Fredericksburg. His father ran a Fredericksburg hotel / brewery which was built in the shape of an aircraft carrier.
Day 13: Monday, April 24, 2006
Monday around noon we left Fredericksburg and we went off to our final destination: "San Antonio". Here our trip through Texas started over two weeks ago and here it will end before our return to Brussels.
Who does not know the name Davy Crocket and the story of the Battle of The Alamo? The Alamo was a mission where Crocket and 8 other brave stand for days against a major force of Mexicans. They were defeated but the slogan "The Alamo" lives on to this day. At the time we visited The Alamo there were ceremonies in memory of the battle, many attendees were dressed in old uniforms. One of our group, Mario Lampaert, even came in contact with a great-grandson of the late President Washington, which is certainly a unique occasion.
Day 14: Tuesday, April 25, 2006
The Corpus Christi trip is over and everyone is satisfied and can to return to family and friends.
Travel report by Frank Dumez & Filip van Acker
Translation: Jan Van Cauwenberghe