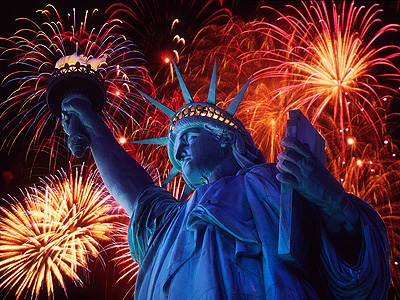 Huge parties all over the States today since the American people celebrates their country's 240th birthday!
On July 2nd, 1776 Congress signed the Declaration of Independence and became independent from the UK. Two days later, on July 4th, the signed document was presented to the people.
Today Americans will gather with their families and enjoy the time together with bbq's, picknicks, baseball, drinks and music. Numerous towns and cities will have 4th of July parades and tonight there will be some huge fireworks, bells will ring and freedom will be sung.
Fire Observers vzw would like to congratulate all our American friends with their country's birthday. We wish them a very fine, happy and safe Independence Day!
A lot of our friends our working today on fire trucks and medic units, we would like to wish them a very Happy 4th as well and we wish for them to be safe!
Thousands of American soldiers who defend freedom all over the world won't be with their families and friends today. We would like to thank them for their sacrifice and service and we hope they can all return home safe and sound somewhere in the near future so they can spend days like this with their families and friends again.
Happy 4th y'all!